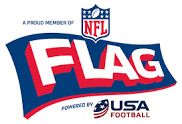 Flag Football-Scroll Down To Register!
Registration for Flag Football is Now to June 19, 2020. (online at www.thbgc.org or call 812-232-2046 to arrange form pick-up  at 924 N. 13th Street).
Season: June 22nd - July 23rd.
The Terre Haute Boys & Girls Club is now an official NFL FLAG league.
Current Membership Required!
Flag Football: Grades K-8th
Program fee: $45.00 (Additional $5.00 processing fee if online registration is used) + Current Membership Required (Membership located under our program tab)
For more information on any programs, please contact us at 812-232-2046.