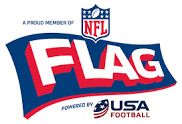 Flag Football-Scroll Down To Register!
Registration for Flag Football is from February 3, 2020 to March 27, 2020. (924 N. 13th Street or online at www.thbgc.org). The league will begin the week of April 6th. The Terre Haute Boys & Girls Club is now an official NFL FLAG league.
Current Membership Required!
Flag Football: Grades K-8th
Program fee: $45.00 (Additional $5.00 processing fee if online registration is used) + Current Membership Required (Membership located under our program tab)
For more information on any programs, please contact us at 812-232-2046.